Superior basic performance
The SMZ800N comes with a wide zoom ratio of 8:1 (1 – 8x zoom range) and enables high resolution observation of 640LP/mm (using ED Plan Apo 2x/WF at maximum zoom) with its high-NA optics. Semi-Apochromat optics have been adopted for the lenses in the SMZ800N zoom body to achieve chromatic aberration correction throughout the viewfield.
---
Ergonomic design
Eyepiece tubes with a range of inclination angles are available for comfortable observation. They offer the optimum eyelevel for each user. In addition, slim-type plain stands and the LED Diascopic Illumination Stand easily facilitate the presentation and removal of specimens.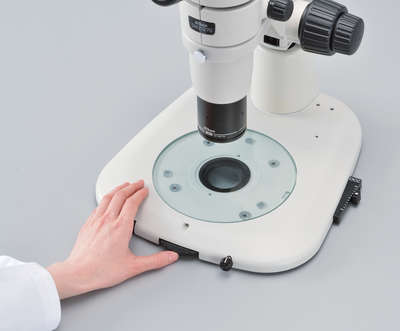 In addition to basic optional accessories, the same high level of accessories used with superior models are also available for this model. These include trinocular tubes and slim-type LED diascopic illumination stands. These allow various microscope configurations to suit numerous routine inspections and a range of research and development applications.