In the recent years, super-resolution microscopy has gained more and more attention. It has now evolved beyond the stage of development and permits to investigate biological systems that were formerly obscured by the diffraction limit of light. One of the most popular techniques for super-resolution imaging is Stimulated Emission Depletion (STED) microscopy. STED is usually performed with confocal microscopes and is therefore ideally suited to be added to theMicroTime 200. The integration of STED into the system has been driven towards highest robustness and ease-of-use. The system permits to perform STED microscopy without lengthy alignment preparations while still having the choice to modify the system and use the full capability of the open microscopy platform MicroTime 200.
Less than 50 nm optical resolution
STED microscopy uses the principle of stimulated emission based depletion. After exciting fluorophores in the laser focus, a second, donut-shaped focus of a laser with longer wavelength is used to actively de-excite the molecules in the periphery via stimulated emission. In the MicroTime 200 STED, the donut is created using a so-called EASYDOnut phase plate. It is inserted into the beam path and changes the STED laser focus to a donut-shape, while leaving the excitation laser unaffected. This simple implementation makes spatial alignment of the two laser beams, which emerge from the same optical fiber, unnecessary and yields a spatial resolution of less than 50 nm. Due to the time-resolved data acquisition principle of the MicroTime 200 STED, it is additionally possible to apply time-gates to all measured data. This gated STED (or gSTED) approach leads to an enhanced resolution in images and a reduced observation volume for FCS.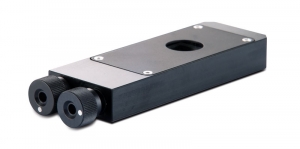 Detection subsystem with single photon sensitivity
In the MicroTime 200 STED, scanning is facilitated through a piezo table optionally combined with a high precision PiFoc element for 3D imaging. The choice of piezo scanning ensures a high repositioning accuracy and stability, which is essential for high quality STED images. The system can be configured for up to four individual detection channels. For the deep-red emission of the STED dyes depleted at 765 nm, SPADs are typically used, since they feature a high detection efficiency of up to 70% in this spectral range.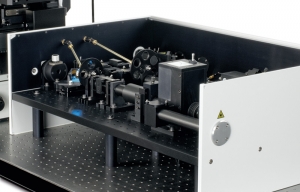 Gated STED with picosecond resolution
Data acquisition is performed using time-correlated single photon counting (TCSPC) using PicoQuant's unique time-tagged time-resolved (TTTR) data acquisition mode with picosecond resolution. The acquired TTTR data can not only be used for regular STED imaging, but also to perform gated STED (gSTED) measurements. The advantage of TTTR data acquisition mode is that it allows to perform vastly different measurement procedures besided STED, such as FLIM, FCS, or even coincidence correlation ("antibunching"), based on just one fundamental data format. The TTTR format ist supported by all available TCSPC electronics from PicoQuant.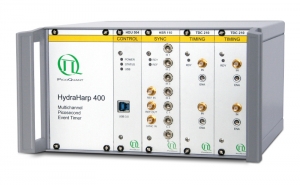 Intuitive data acquisition and analysis
SymPhoTime 64, the MicroTime 200 STED system software, features dedicated STED data acquisition and analysis protocols. For example, preset time-gating is integrated in the measurement preview, and flexible time gates for higher STED resolution can be set during data analysis. The unique fluorescence pattern matching approach can be used to separate multiple species from data recorded with the same STED laser wavelength.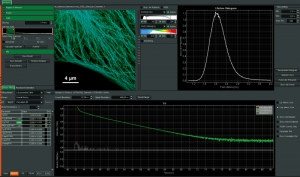 FLIM, FRET, FCS, and more
The MicroTime 200 STED can not only be used to perform STED and STED-FCS, but also supports all other measurement and analysis procedures available for the MicroTime 200. This includes FLIM, FCS, FCCS, FLCS, FRET,PIE-FRET, or intensity time-traces, to name just a few.